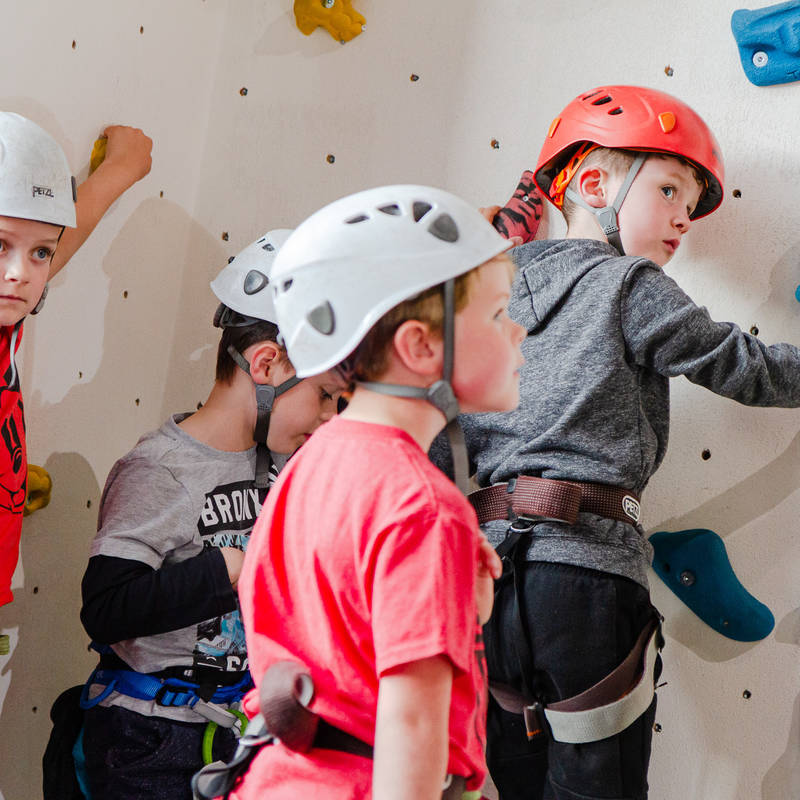 Junior Crew Clubs
To access these clubs everyone must join as a Junior Crew Member.
Important Information
Annual Junior Crew Membership is £30 and guarantees the club space from term to term acting as a deposit.
The Junior Crew Membership also offers some discounts into holiday activities at the Boathouse.
Weekly session fees are due upfront in half termly blocks. No refunds are given due to non attendance.
Should a half term be missed the club space is not immediately forfeit.
If no contact or explanation is offered to non attendance the club space will be automatically released after the first session in the 2nd half term block of no contact or payment. The Junior Crew Membership will then be forfeited and cease to continue.
We are no longer operating a waiting list, please register your interest in joining and we will add you onto an email contact list. When spaces become available you will receive notice, spaces are offered on a first come first served basis. We do endeavour to place people as quickly as possible on the first point of contact but this is dependant on capacity.
CLUB PRICES
1 Hour Club @ £6.50 per session
1.5 Hour Club @ £8.00 per session (Inters & Advanced only)
It is a requirement that all climbers wear climbing shoes. These can be hired directly from us at a special rate of £1.00 per session.
All other kit needed is provided free of charge, climbers are welcome to bring their own kit along.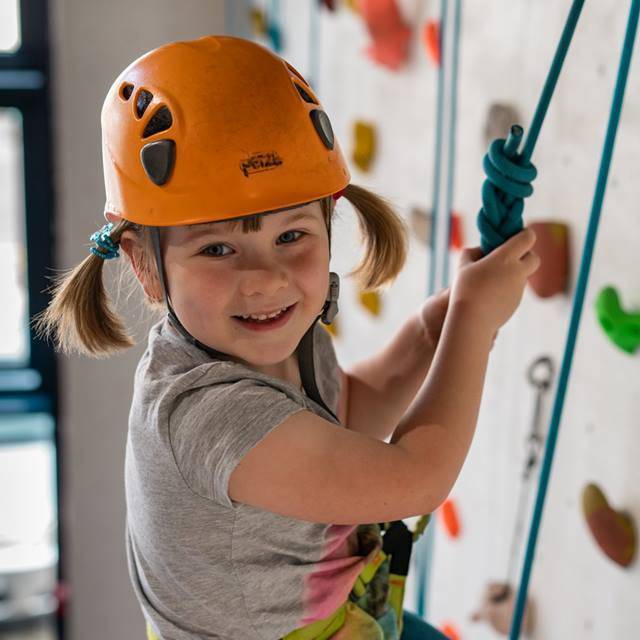 4-7 Years

These fun interactive sessions are built on the fundamentals of climbing and aim to give the young person the best start in this sport but also to help establish skills that are relevant to other areas of their lives.
During the weekly sessions the content includes playing games that help to develop and increase balance, spacial awareness, hand, foot and eye coordination to name just a few physical benefits. Climbing is also an activity proven to help in concentration and focus.
Members are also introduced to a rope system in which they can interact and be a part of. This gives them the opportunity to learn how to trust and become responsible for themselves and others through team work and respect. As they progress they begin to demonstrate an awareness of safety and how to assess risk. These are all qualities that are essential for their futures.

Please note, anyone who is 4 year old must be in full time education to join these clubs.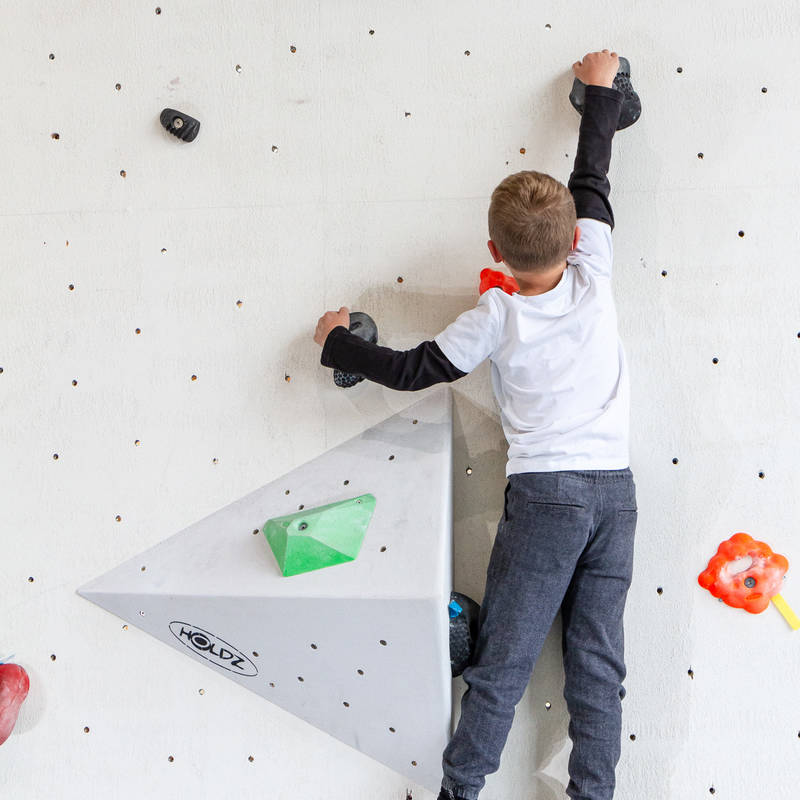 Beginners of 8-12 years and 13 years plus
For 8 years and older our Junior Crew Members literally start learning the ropes!
By focussing on how to belay and be responsible for another climber, as well as learning about the equipment of harnesses, helmets and ropes our climbers learn about taking responsibility and working within a safe and supportive environment.

The fundamentals of climbing still forms an integral part of these clubs and focus is also given to continual development their movement skills through a series of engaging and challenging tasks.
Members are also given the opportunity to experience our Bouldering Wall and Roped Climbing in our Tower. Climbing shoes are needed at this level and we have a special discount rate on shoe hire at just £1 per session.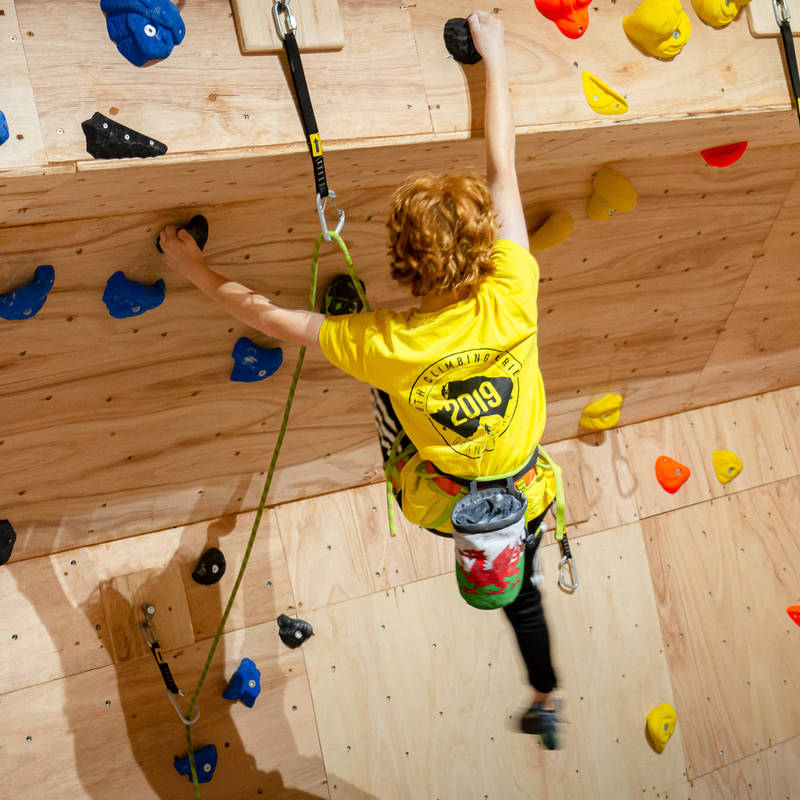 Intermediate / Advanced
For climbers who can already belay and are competent on a Bouldering Wall.
Comprehensive climbing techniques are included within this programme and each climber is developed on an individual basis according to their needs.
Areas of focus are placed within body movement coaching through a variety of tasks and challenges.
If appropriate for the group then Lead Climbing may also be built into the programme of activity.
Individual training programmes can be devised alongside the club programme if required or requested to further enhance a climbers development.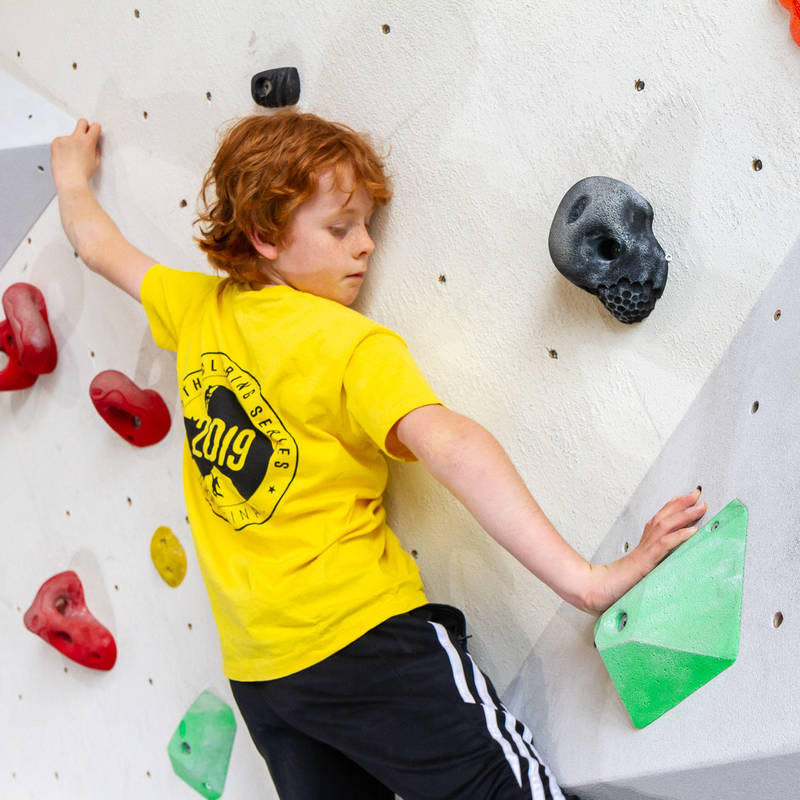 Personal Climbing Stories
Sam was a member of the Welsh team in the recent UK BMC youth climbing finals 2019, where he finished 7th overall and the highest placed Welsh Climber in Age Category D.
Sam's very first climbing experience was at Prom Extra with Andy on VersaWall and thoroughly enjoying his time on the wall he joined the climbing clubs at Llandudno Junction Leisure Centre back in 2013. Showing a natural flare for climbing Sam progressed very quickly under Andy's coaching and outgrew what Junction Wall was able to offer. Encouraged to pursue his climbing passion and develop his skills further Sam successfully joined the North Wales Climbing Academy and has been actively involved ever since. You will find Sam training at the Boathouse from time to time on both the bouldering and lead walls.